Sean Tilley
dsh@deadsuperhero.com
---
San Francisco, CA

(37.766961599999995 -122.41686869999998)

,
I've recently gathered copies of interviews I have appeared in, most of them pertaining to Diaspora, and
have added them to my Hubzilla cloud folder
for safekeeping. Some of the interviews have good moments, occasionally I did a really good job. Some of them are a little cringe-inducing, but I figured it was worth preserving them, too.
I'm also now mirroring
an old Diaspora text interview
from a site that doesn't host it anymore.
The Computer America Show file is unusually large, might try to shrink it and re-upload sometime soon.
The audio interview you gave a few years ago to a British-based tech podcast (can't remember the name) was excellent. You gave a really lucid, well balanced overview of Diaspora, what it was trying to do and the current challenges, and came across really well in a personal way too. I was dead impressed, and thought 'I wish I could do that.' All power to you.
The audio interview you gave a few years ago to a British-based tech podcast (can't remember the name) was excellent.
Haha, I'm pretty sure that was
the Ubuntu UK Podcast
. I actually felt that was one of my weaker interviews, but I'm glad you might think otherwise. :D
---
San Francisco, CA

(37.7667651 -122.41671590000001)

,
For everyone reading this: congratulations, we did it! We've survived another year. This past revolution around the sun has been rife with challenges; many moments of 2017 felt like an endless endurance test for our collective sanity. Once again, people chased speculation, inhaled the vapors of hype, and trembled in fear at the possibility of an oncoming apocalypse.
In the imagination of the American consciousness, we're all imagining angry and vengeful leaders hovering their fingers over big dangerous red buttons while radical factions attempt to tear the world limb from limb.
(note: it still hasn't happened yet)
Like Marvel movies, 2018 will bring in more of the same, but hopefully in an arrangement that feels new and exciting. Maybe our president will offend another world leader, or maybe the value of Bitcoin will collapse down into dozens of other cryptocurrencies. Better yet, maybe this will be the year that sex with an AI assistant in VR becomes realized. Or perhaps we'll use CRISPR to create polar bears that can deal with the increasing heat. The possibilities are endless.
Here's to another year of this celestial rock getting pulled around a burning ball of gas, to the people we give our hearts and minds to, and the experience of living in this world together. Here's to the nerds and hackers who hang around on this bizarre network of networks, who give it a sense of charm and character and try to make it better bit-by-bit.
---
Sentry.io Blog - Welcome Sean Tilley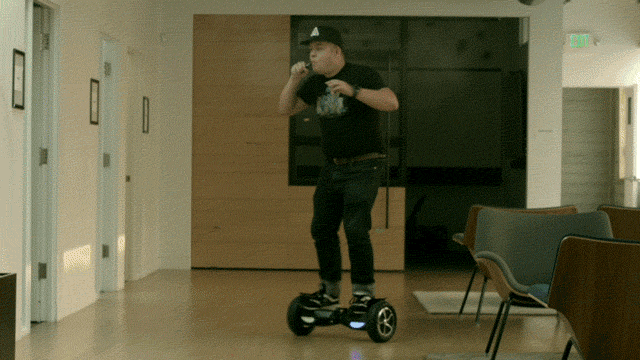 This was a pretty fun way to get introduced - the #
Sentry
team plans a video shoot and creates a GIF for their blog, which announces new team members and tells a little bit about their personal history.
One month in, and I'm starting to get adjusted to working there - I'm slowly moving up from working the support queue to taking calls and devising concept demos, which honestly feels great. I've even talked to my first enterprise customer, and I'm being coached on how to work this system.
I'm making new friends and learning how to come out of my shell. As much as I'd like to say that I feel like a kid on my first day at school, we've already hired on a bunch of new people. So I'm not even the newest person here.
Good to hear good news! Plus, your gif is fucking awesome that it has just been repurposed in a discussion thread with some friends
Sometime early this morning / late last night, I became an uncle. Congrats to Beau Tilley on his evolution into fatherhood!

I'm so proud of everything you've accomplished and everything you've become, little brother.
last edited: Fri, 27 Oct 2017 20:14:41 -0700
I'm overjoyed to say that I've accepted an offer for a new job! I will be helping Sentry in building out their Customer Success department, and working with customers who are getting set up with our product. We're developer-oriented, and on top of that, we're Open Source! :D
Sentry | Error Tracking & Exception Handling — JavaScript, Python, PHP
Open-source error tracking that helps developers monitor and fix crashes in real time. Iterate continuously. Boost workflow efficiency. Improve user experience.
Sentry is a really awesome product.
Yeah, I'm currently testing it out with an app of mine. Setup was actually pretty easy, and I was surprised to see it sending events from both my dev environment as well as a Heroku deployment. I'm trying to take notes on what things were easy, and what kind of things were confusing about setup.
I don't start until sometime late next month, but I think it's important to start learning early.
last edited: Fri, 27 Oct 2017 20:16:02 -0700
My last day at #
BackerKit
has concluded. These past few years have been some of the best years of my life, working with some of the best human beings I've ever met. I've learned so many things, and have come so far from where I started.
I'm still figuring that out. :)

I've got an in-person interview with Sentry this coming week, and will be applying to build out their Customer Success department. I also have a handful of other places that I'm talking to, but no timeline. Financially, I am in a position to search for work for two months before funds become a serious concern.

For my day-to-day, I'm going to work on my Rails app, write a bunch of articles I've been meaning to get around to, and start going to the gym.
last edited: Fri, 27 Oct 2017 20:16:16 -0700
LEGAL WEED IS COOOOOOOOOOOOOOOOOOOL
#
Marijuana